Research about creative spaces
This page provides research to advocate for the value of creative spaces. If you have other examples you would like others to know about, please contact Kate Hiatt (E: kate.hiatt@artsaccess.org.nz T: 04 802 4349).
New Zealand
Research on arts and youth wellbeing
An article about research that maps the ecosystem of programming for arts and wellbeing practices is available on the Te Ora Auaha website. This research focuses on programming in Tāmaki Makaurau Auckland, home to diverse, innovative arts and wellbeing practices specifically for youth. However, the current policy and funding context presents significant challenges for artists and organisations working in this area of the arts, impacting on growth, sustainability and positive impact. These are some of the findings from a research project conducted by the Critical Research Unit in Applied Theatre (CRUAT) at the University of Auckland.
Download
The executive summary (pdf 149 KB)
The full report (pdf 1154 KB)
Research on benefits of Arts Integrated programmes
A qualitative study evaluating the impact of programmes offered at the Arts Integrated creative space in Christchurch has been released. The study used the Most Significant Change Analysis technique, which involves collecting stories from people and stakeholders closely involved in the programme to evaluate the impacts and changes as a result of the programme's involvement. Read more and download the report
Report of survey findings
A report, Understanding the Value of Creative Spaces, presents key findings from a survey of creative spaces, intended to provide key decision-makers and agencies with information about the sector to better understand how the sector operates, the services it provides and to whom. Hon Carmel Sepuloni, Associate Minister for Arts Culture and Heritage, Minister for Social Development and Minister for Disability Issues requested that the Ministry for Culture and Heritage, the Office for Disability Issues and the Ministry of Social Development, with assistance from Arts Access Aotearoa, undertake a study on creative spaces to provide information about the sector. The report was released on 9 July 2019.
Impact of Ōtautahi Creative Spaces
Findings from research demonstrate the "profound" impact of Ōtautahi Creative Spaces' programmes on artists' mental health and wellbeing. Analysis of the innovative arts programme by Ihi Research and Development has revealed how it has helped those involved to become more connected and resilient with improved social skills. Evaluation for Ōtautahi Creative Spaces Trust (pdf 2.5 MB)
International
UK: Research: art courses improve mental wellbeing
Researchers at the University of Gloucestershire have recently evaluated data from nearly 1,300 primary care patients in South West England, finding a course of arts-on-prescription to provide a significant improvement in overall wellbeing, including in those with very complex care needs. UnlArts-on-prescription schemes provide art courses where patients can choose to learn how to draw, paint, create mosaics or write. The courses are led by local artists, and are community-based rather than being based on specific medical needs. Read the article
UK: Research: arts for health and wellbeing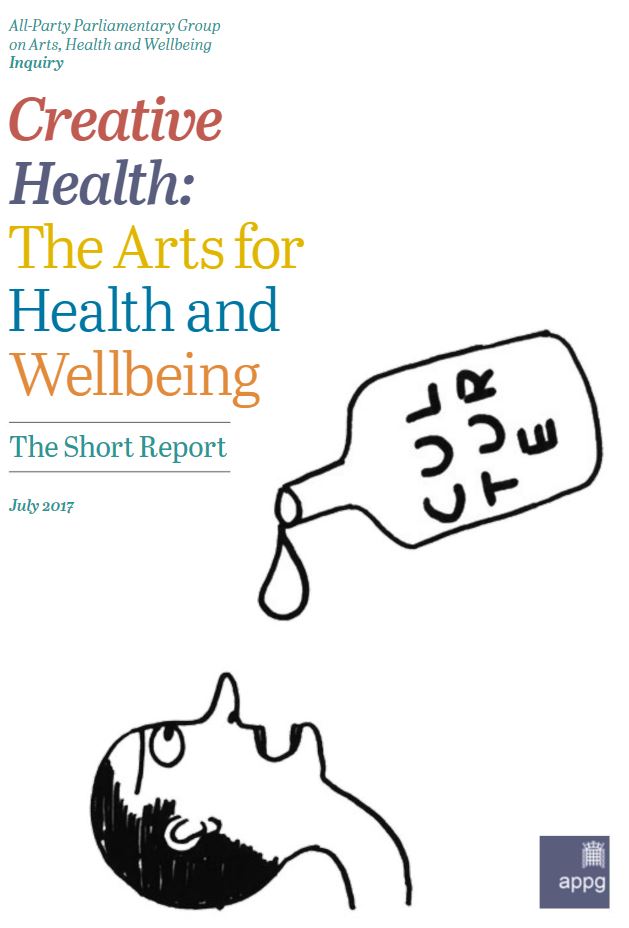 Creative Health: the arts for health and wellbeing, a 2017 report from an All-Party Parliamentary Group in the UK, presents comprehensive evidence on the beneficial impact of the arts. It's the result of two years of research, evidence-gathering and discussions with patients, health and social care professionals, artists and arts administrators, academics, people in local government, ministers, other policy-makers and parliamentarians. In the report's Foreword, Rt Hon Lord Howard says: "The evidence we present shows how arts-based approaches can help people to stay well, recover faster, manage long-term conditions and experience a better quality of life. We also show how arts interventions can save money and help staff in their work." Download the report from this page.