About the Creative Spaces Network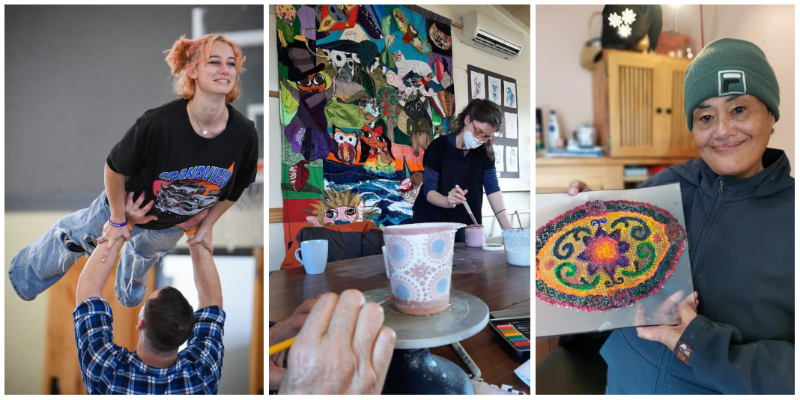 From left: Circability in Auckland, Ōtautahi Creative Spaces in Christchurch, and MIX/Te Whare Toi in Wainuiomata
There are many creative spaces in communities throughout Aotearoa New Zealand, The national Creative Spaces Network aims to build their capability and longterm health, and increase their capacity to profile and promote the value of what they do.
Creative spaces are inclusive and dynamic places where people who experience barriers to participation can explore their creativity and their art practice. These barriers include learning or physical disability, neurological conditions, mental health distress, age-related vulnerability (senior citizens or vulnerable youth), cultural isolation or poverty.
Creative spaces provide resources and assistance in ways that encourage self-expression, empowerment, and self-development through making art or participating in artistic activities. They offer a range of artforms, including visual art, scuplture, ceramics, theatre, dance, circus, music, film and creative writing. Some encourage an informal, drop-in approach while others prefer a structured approach, with programmes and workshops. Read more about these approaches
There are more than 80 creative spaces in communities throughout Aotearoa, Some were established in the 1980s, others more recently. Read more about the history of creative spaces
To find out more about creative spaces and the Creative Spaces Network, contact Kate Hiatt, Creative Spaces Advisor, Arts Access Aotearoa (T: 04 802 4349 E: kate.hiatt@artsaccess.org.nz).
Thank you to Manatū Taonga Ministry for Culture and Heritage, which has provided funding over three years to support the professional development of creative spaces.